Watch Aggie Solar-Decathlon video:
Streaming QuickTime Movie (10.2 MBs)
Streaming QuickTime Movie (37 MBs)
To view these video files, you must have QuickTime. Get it here.
Previous - Next - Return to Blog Home Page


Thursday, Oct. 4, 2007
Construction has been under way for 32 hours and the project is moving forward nicely. All of the GroWalls that attach to the core are installed and the electrical is connected but not energized. The garage is about 90% framed and its mechanical GroWall is being installed.
There was a hang-up on the routing of the piping out of that GroWall that had to be resolved and all of the lines had to be re-routed around a column. Chris Urban, our plumber, started on that change at 8 a.m. today and should have it corrected within a couple of hours.
In addition, the first two bays of solar panel were erected, so installation can commence on wiring up the solar power generation system. The day shift has been tasked with erecting the steel for the study, and completing the garage. The evening shift's job will be to frame the deck from the garage to the study, which will allow for the erection of the solar thermal water heaters. Once this is done, all the piping can be routed for solar water heating and distribution.
The young people are working long and hard. Many of the team members are working their shift plus half of another. The area where we are staying in shuts down at 7 p.m. This is difficult for nocturnal college students who are accustomed to restaurants staying open until 2 a.m.
Here are some more images from the first 24 hours: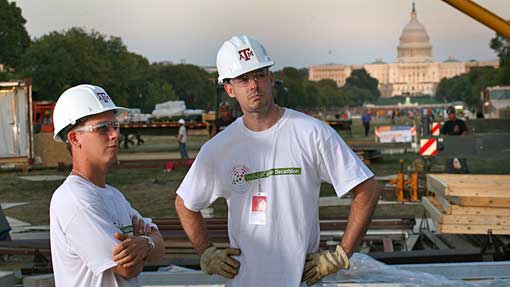 Previous - Next - Return to Blog Home Page